Prep time: 10 mins | Cook time: 25 mins | Serves: 4-5
My kids love this dish so much! I can't blame them because even I crave for it all the time! If you are looking for the perfect dish to go with rice, then, this will surely be it! What I love the most about this dish is that it has all the ingredients I like. From the beef to the cabbage, and of course, cheese. Who doesn't like cheese? Well, anyway, feel free to add more ingredients to this simple yet amazing recipe. I have always wanted to add bacon. One of these days, I will. Enjoy!
Ingredients:
1 pound ground beef
1 medium onion, chopped
1 green bell pepper, chopped
2 cloves garlic, minced
1 tablespoon Worcestershire sauce
1 tablespoon my house seasoning (equal parts garlic powder, onion powder and pepper…combine and store in an airtight container)
10 ounces can dice tomatoes with green chillies, not drained
3 cups chopped cabbage
10 ounces beef broth
1 cup shredded sharp cheddar cheese
Directions:
Step 1: Place a skillet on the stove and turn the heat to medium-high.
Step 2: Add in the ground beef and cook until brown and greasy.
Step 3: Discard the excess grease and add in the onion, garlic, bell pepper, Worcestershire sauce, and house seasoning. Stir until well mixed.
Step 4: Add in the broth and tomatoes. Stir until well combined.
Step 5: Add in the cabbage and cover the skillet. Cook over medium heat for 20 to 25 minutes or until the cabbage is soft and tender.
Step 6: Remove the cover and add in the cheese. Stir until well mixed.
Step 7: Cook for a couple of minutes until the cheese is melted completely.
Step 8: Remove from the heat and spoon it over rice.
Step 9: Serve and enjoy!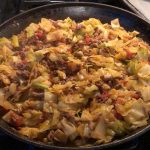 Ingredients
1 pound ground beef

1 medium onion, chopped

1 green bell pepper, chopped

2 cloves garlic, minced

1 tablespoon Worcestershire sauce

1 tablespoon my house seasoning (equal parts garlic powder, onion powder and pepper…combine and store in an airtight container)

10 ounces can dice tomatoes with green chillies, not drained

3 cups chopped cabbage

10 ounces beef broth

1 cup shredded sharp cheddar cheese
Instructions
1 pound ground beef
1 medium onion, chopped
1 green bell pepper, chopped
2 cloves garlic, minced
1 tablespoon Worcestershire sauce
1 tablespoon my house seasoning (equal parts garlic powder, onion powder and pepper…combine and store in an airtight container)
10 ounces can dice tomatoes with green chillies, not drained
3 cups chopped cabbage
10 ounces beef broth
1 cup shredded sharp cheddar cheese